March 11, 2017
1 Likes
0 Comments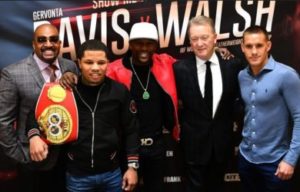 UK correspondant: Samaarah Choubak
The UK has been calling Floyd Mayweather Jnr for a while now and as we came out of hibernation from the winter here, behind the scenes a deal was brokered with Frank Warren and Leonard Ellerbe of Mayweather Promotions.
Leonard Ellerbe, "It makes great business sense, Floyd has a great desire to bring a massive event to the UK and it didn't make me very long at all to make the deal with Frank Warren and their wonderful team and it's going to be a big event." Ellerbe was delighted and very pleased to be in the UK at this special time.
This show will be presented on the 20th May in the Copperfield Arena, UK for Davis to attempt to take the IBF Junior Super Featherweight Title televised live from Boxnation.
Gervonta "Tank" Davis 17-0 trained in the Upton Boxing Centre since the age of 5 and developed into winning the National Golden Gloves in 2012, after a triple silver Golden Gloves wins. His mixed bag includes a range of American and South American fighters, defeated and now moving to Liam Walsh's territory, the build up to this fight will become passionate.
Liam Walsh 21-0 is highly experienced coming from a family of boxers and has been headlined in the past to fill in empty vacancy for Ricky Burn's commonwealth title in the past and won respectively. Now fully rehabilitated from a motor vehicle accident he is positioning his energy into this "Strap Season" with the full support of Frank Warren, Mayweather Promotions and global fans.
Liam Walsh didn't hold back any thoughts of excitement he said "With him being the future of boxing, it makes my job easier, I'm really excited as it's a cracking fight, I'm not scared of his power whatsoever, you won't see me running around, he's a sharp fighter but I'm not afraid of that."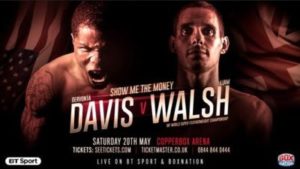 The reality behind the background of Davis and his upbringing was not easy being in care and was full of hostilities, this story will be touching the hearts of all giving us some insight of him and he said "My coach came from the streets, he was deeper in the streets than I was, he was actually brought up on the streets, and was a kickboxer before he got into boxing, he's saving my life and I'm also saving his life. One of his top fighters before me, Ramone Manley, is in jail. Calvin was on the verge of going back to the streets, then I came around."
Floyd Mayweather Jnr told Boxing Socialist "Mayweather said, "Thank you for having us. I didn't come over here and fight but I promised to bring more boxing to the UK, you are hardcore fans, a force in boxing and you cannot be overlooked, we want to bring the most exiting fights we possibly can to you and Gervonta Davis is not just the youngest world champion in boxing, he's one of the most exciting too.
He went on to say "Nobody in boxing has a story like Gervonta Tank Davis and this is a great match-up, our man will be ready. He already has dynamite in both hands so now we're trying to add to that."
"It won't be him emulating my fighting style I'm able to communicate and help these fighters and how they can make things a lot easier, it's about smarter and not harder, I can teach fighters how as I have faced every style there is to be faced, so I can give small pointers to help him be victorious, but everything takes time and our man's going to be in top shape and he can get the job done in very exciting fashion."
Mayweather also stated we could be seeing Ashley Theophane on the bill and other big names will be announced soon and of course he said he will be bringing more fights to the UK.
Boxnation will be airing the event LIVE on air and susbribe on http://www.boxnation.com/ for 20th May, London Copperbox Arena in the Olympic Park.
Follow Boxing Socialist on Twitter https://twitter.com/boxingsocialist &Instagram https://www.instagram.com/boxingsocialist/ Samaarah Choubak https://twitter.com/Samara_Choubak