March 3, 2017
1 Likes
0 Comments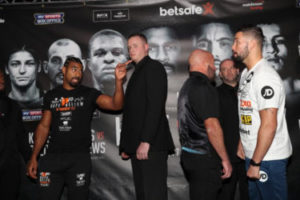 SAN DIEGO–Below are quotes and pictures from former heavyweight and cruiserweight champion David Haye and current WBC Cruiserweight world champion Tony Bellew.  Haye and Bellew will meet in a heavyweight grudge match
this Saturday
from the 02 Arena in London.
The fight card can be seen LIVE in the United States on AWE-A Wealth of Entertainment and for fans who want to see the fight that do not have AWE, they can watch the fight on the AWE channel on
www.klowdtv.com
  beginning at
1 PM ET
/
10 AM PT
"I need to prove to the world that I number one, and I'm a box office star," said Haye. "The rest of the Heavyweight world will see that if they want mega-dough they need to come to me. People want to see him get destroyed. I will go out there, I will let me hands go, and he will go to sleep very, very quickly.
"I feel better now than I ever have. No-one wanted to fight me in my last two fights. I went through so many names but they didn't want to know. I got my ranking back from it so it did the job. I don't think he's any tougher than the last two guys, I really don't. Tony is tailor-made for me. If I can construct an opponent to KO easy, I'd say 'bring me Tony Bellew'.
"It's a shame for him but the fans will get to see what they want. I hope it doesn't shock them how brutally he's going to get knocked out. They're the ones that have called for it. If it wasn't for the public demanding the fight, then it wouldn't be happening.
"People have started to think he's got a chance – but once the reality dawns of my right-hand landing on his chin, it's good night. Everyone knows what's going to happen, he's getting carried out of the ring. He can hit me clean on the chin with his best shot and he won't budge me.
"After he won his European title he started screaming and shouting at me, branding me the 'Bitch from Bermondsey', which I thought was a bit of banter. I thought he was trying to get a bit of cheap publicity off my name, I didn't really think he wanted to fight me. Then he had his World title fight, and credit where credit is due, he won that.
"Then he floored a good friend of mine in B.J, who I thought would beat him but for whatever reason, he didn't. That night he went for me, kicking the advertising in my face and giving me lots of abuse.
"So I thought to myself, OK. I had a look at social media to see what the general vibe was from the fans, and they all loved it. They were saying to me, 'you've got to teach this chump a lesson', so we made it happen.
"I just don't think he likes me. Maybe because I've achieved more than him. Maybe because I generate a lot of interest, a lot of money, a lot of headlines, and he doesn't. Maybe he's jealous of that – that's probably what it is."
"He's a trier," said Haye. "He comes out and has a go. He doesn't have a good defence, which is imperative if he's looking to get out of the first round against me.
"He's got decent punch power at Cruiserweight. Whether he brings that to Heavyweight, I don't know. I assume he punches harder though as it would be foolish of me to think he punches worse.
"He has endurance and can fight at a reasonable pace for 12 rounds at Cruiserweight. He's not got the highest pace but he's done a few 12 rounders recently. He probably won't put too much weight on above Cruiserweight in his first fight at Heavyweight, that would be stupid – but he's a bit of an idiot. He doesn't really have a nutritionist who knows what he's doing. If you look at his body shape, you realise he's not someone that takes diet and nutrition seriously.
"I've never really liked his personality. He sounds very passionate until it comes to the crunch, and then he falls apart. If you listen to him before every fight, he always says he's willing to die in the ring, he's willing to go further than any other man – blah, blah, blah.
"This fight is basically about how long he can stay awake. Can he leave the ring on his own devices or will he be stretchered from it? Those are the questions people are asking, not if he can win the fight, because I think everyone that knows anything about boxing knows he's got no chance."
"I've learned the lesson about not being complacent many years ago, about not underestimating my opponents' abilities. I don't do that anymore. Whether my opinion of him is that he's not that good is irrelevant – what is important is the fact that I train the same regardless of who I am fighting, that's what I do.
"Although I know that I am going to win, I've still push myself to the limit in training because it wouldn't be good preparation for the fight after this – so I have trained like I am fighting for the World Heavyweight title.
"It's a Heavyweight fight, there's no benefit in coming in at Cruiserweight. I'm looking at it like I am fighting Anthony Joshua. It makes no difference to me though. I might be heavier; I might be lighter. My weight is never a measuring stick of any kind. I do my measuring by how fast I feel in the ring, my punch evasion, my reaction times and my running times. Recognizing when I am in optimum shape is done in the gym, not on the scales.
"I'm 36 but if you tally up the number of clean punches I've taken as a Heavyweight, it's not many. Most fighters take that in the first round of a fight. My shoulder is rock solid now. I'm happy with how I am. It's onwards and upwards."
"Shane has rejuvenated me," said Haye. "I probably do three or four times as much boxing training as I used to do. In the past, it was a lot more about getting into shape to fight and my skills were what they were, and that was enough.
"Shane understands that I'm a very skilled Heavyweight – probably the most skilled on the planet if you look at punch evasion, if you look at ring generalship, clean punches received – I don't think there's another fighter on the planet that can slip shots like me.
"Shane wants me to improve though, he wants more from me. He wants me to be the best that I can be. He's not sitting on his laurels. He wants me to be even better technically.
"Shane gets this business like nobody I have known. He has brought a young outlook and a youthful enthusiasm to my training and it has rubbed off on me.
"These are things I believe I've missed in years gone by. Even when we're not training, we are still training – in our heads. Even when there is no fight lined up, he still wants to come to work with me and improve me. The fact that he is only 28 is a real bonus.
"He has so much energy to train that he'll work with me at 7am or at 1am. He is there whenever I need him. He is putting so much time and energy into me and his all-knowing eye is very advanced for a man of his age. His father was an all-time great. And whenever Barry was working as a TV commentator, he would take Shane along.
"He'd watch all the fights at ringside from the first one on the undercard to the main event. He soaked it all up. So he really gets it like no one I've ever known."
A fight that McGuigan wants next for Haye is Joshua. The Olympic gold medal man faces Haye's old foe Wladimir Klitschko at a sold-out Wembley Stadium in April, and like his trainer and all British fight fans, Haye would love to square up to AJ in a mammoth fight that would bring the country to a standstill and move his closer to his goal.
"That's the one that gets everyone excited," said Haye. "He's got to get past Klitschko first, but Klitschko is 41 now and hasn't fought for nearly two years. I think it would be a fun fight, me and him. I'd like that and the fans seem to as well.
"He has a big fan base. He started boxing after I was World champion so I've got a bit of experience on him; a lot of experience on him. I don't think he can make up for that.
"He has the physical advantage over me in size, and probably strength, and he's ten years younger. So he's got those in his favour. I think it'll come down to boxing skills and experience. I don't think he can make up for that. Although he's a tremendous physical specimen, it comes down to punch evasion, what happens when I hit him on the chin, how does he react?
"When he has got caught, the one time Dillian Whyte hit him, he looks very shaky. And since that punch he's purposefully not been in the ring with anyone that fights back. That's not going to help him against me.
"In the time I've been away Anthony had his Olympic gold, his whole Heavyweight run to becoming a champion and racked up a string of knockouts. In that time, he's introduced a lot of non-boxing fans to boxing and these people think he's the best thing since sliced bread. It's great that he's got this young following.
"My fans are a bit older, a bit more seasoned, they're not as impressed by him as he's not fought anyone that punches back. I'd like to get in the ring with him and prove who is the best in Britain, and I think it will happen this year.
"I'd like people to recognise me at Heavyweight as 'the man', like they did at Cruiserweight. I had a version of the Heavyweight title but I want to be considered number one in the division.
"This is going to be the last phase of my career and I see myself as the biggest fight out there for every fighter on the planet. If Joshua wins the Klitschko fight, which I believe he will, a fight against myself would eclipse that.
"If I was to beat the winner of Joshua and Klitschko and then if Tyson Fury, fingers crossed, gets out of his depression and decides to put the gloves back on, a fight between me and him would be more than enough for people to recognize me as the best fighter on the planet.
"Once people recognize me as that, that's mission done. It's not like I have to aim for a specific belt. People are picking up belts left right and center, and although it's nice to have that strap across your waist I'd like to be the lineal champion or as close as you can get."