January 21, 2018
1 Likes
0 Comments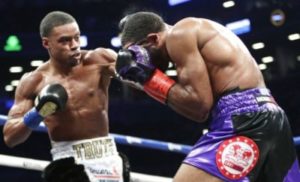 Errol Spence now 23-0, stopped a game but overmatched Lamont Peterson now
35-4. Spence beat Peterson to the punch almost every round and had his eye
swollen shut in the fifth round after he knocked him down. Peterson trainer
Barry Hunter had seen enough and would not allow him to come out for the
eighth round.
"I want to thank Lamont," Spence said. "A lot of guys turned down the fight
and he took it like a real warrior and I commend him for that. My coach
[Derrick James] came with a great game plan and I just followed through
with it. Keep my range, keep my composure.
"I know Lamont—he's a tough fighter. He's willing to die in there. You saw
his coach had to stop the fight because he wanted to keep fighting.
"I still can improve a lot on my defense. I just have to keep perfecting my
skills and keep progressing. You'd going to see a better Errol Spence next
time I g