October 3, 2016
1 Likes
0 Comments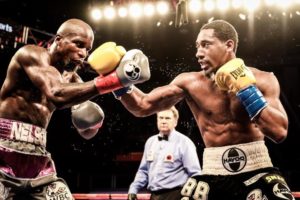 PROVIDENCE, RHODE ISLAND, U.S.A.
– Twenty-eight year old professional boxer, Demetrius "Boo Boo" Andrade (Providence, Rhode Island/pro record: 23-0, 16 KOs), is a former WBO Light Middleweight Champion and a 2008 Olympian. He last fought on June 11, 2016, in a Showtime televised appearance against tough title contender, Willie Nelson. In that fight, Andrade dominated Nelson with varied punch combinations, dropped him four times, and won by technical knockout at 1:38 of Round 12. In the past, Andrade's boxing abilities created difficulties in finding elite opponents to fight him. After dominating Nelson, the question must be asked: Is Andrade now the most feared boxer in the super welterweight division?
Andrade's next fight may be against Jack Culcay. Like Andrade, he is a former Olympian and is the current regular WBA Super Welterweight Champion. He tends to only fight in Germany under the Sauerland Promotion banner. Andrade fought Culcay in the amateur quarterfinals of the 2007 World Championships, and defeated him by unanimous decision. If the Culcay fight can't be made, Andrade could face the winner of a potential fight between WBC champion and Al Haymon advisee, Jermall Charlo, and Don King-promoted fighter, Charles Hatley. On September 17, Mexican boxing superstar, Saul "Canelo" Alvarez defeated WBO titleholder, Liam Smith, by TKO, which could set up a potential matchup with Andrade, if Alvarez remains in the super welterweight division. Cuban boxer and WBA Super Champion, Erislandy Lara, Puerto Rico's Miguel Cotto, and England's Kell Brook are also potential fights for Andrade.
Demetrius discussed the regular WBA champ at 154 lbs, Jack Culcay (Germany by way of Ecuador/pro record: 22-1-0, 11 KOs). He said, "I fought Culcay as an amateur in the 2007 World Championships, so we have some history together in the ring. Although our teams haven't been able to come to terms on a fight yet, beating Culcay for his title would increase the leverage I have in future fight negotiations. He is a current world champion who wants to fight me, so that certainly gets my attention."
Andrade addressed a potential fight with WBA Super Champion, Erislandy Lara (Houston, Texas by way of Cuba/pro record: 23-2-2, 13 KOs).  He said, "Lara always tells people that he beat me in the amateurs. I lost to him in international competition when I was just 17 years old. In that fight, he ran around as usual, and that was reflected in the final score, 4-9. I thought I had really won that fight. I had been averaging around 20 points per fight in the amateurs leading up to that fight. Recently, Lara made claims that his team sent over a contract to fight me on two different occasions. For the record, my team never received an offer. Lara can post on social media the next time his team sends me a contract offer, and I'll be sure to review it with my team immediately. Ask anybody who has ever sent over a contract over to my team, and they'll tell you that we get back to people with a response very quickly. Lara and I both had success in the amateurs, and we have continued to have successful professional careers. If we fight soon, his WBA Super Title would be up for grabs, so now would be a good time for me to get him back from that robbery in the amateurs. Uncle Al knows that I'm ready to fight Lara wherever and whenever, so all he has to do is call."
            Another fight that intrigues Andrade is a potential fight with Kell Brook (United Kingdom/pro record: 36-1-0, 25 KOs). He said, "Brook showed lots of heart against GGG, and I think people would be interested to see how he'd do against someone with my skill set. I get a lot of positive messages on social media from the boxing fans in the UK, and they let me know that Brook recently announced his plan to move to 154 lbs. Eddie Hearn is good at making fights that the fans want to see, and I think he would make a lot of people happy by allowing Brook to fight me without any hesitation."
On fighting either of the Charlo brothers, Andrade said, "I'm not really sure what the Charlos are planning to do. One Charlo brother was supposed to fight Hatley, but that doesn't seem to be happening yet for some reason, and I don't know what the other one is doing. Honestly, I have no problem fighting both Charlo brothers in the same night. Besides their trainers and girlfriends, is there anyone in the world who really believes I'd lose to either one of those guys?" 
Miguel Cotto (Puerto Rico/ pro record: 40-5-0, 33 KOs) is also on the Team Andrade radar. Andrade said, "Cotto is a hall of fame fighter and I would love to fight him. He is a former four-division world champion, and he brings a lot of experience to the ring. He may be campaigning for a title in my division soon, so I want the fans to mention my name when he gets ready to finalize an opponent for his next fight date. A fight against Cotto would excite the boxing fan base, plus it would make for a fun promotion. We were both born in Providence."
Andrade believes that his talent poses a threat to the new WBO 154 lb champion, Saul Alvarez (Mexico/ pro record: 48-1-1, 34 KOs). He said, "I watched the Liam Smith-Canelo Alvarez fight, and it's a shame that people paid good money to watch that fight. If Canelo wants to see how good he really is, then he needs to fight me. My boxing skills are superior to his, not to mention that I have more speed and power than anyone he has fought, including Floyd. The Mexican fans cheer on their countrymen, and I respect them for that, and they also admire great boxing talents. If Canelo fights me, I guarantee you that I'll open their eyes to what a real boxing talent looks like. The low pay-per-view buys for Canelo's recent fight prove that boxing fans can't be fooled. People knew that fight wouldn't be competitive, so they chose not to buy it. I've been reading that Canelo may move up to 160 to test waters for a GGG fight. Tell Eric Gomez and Oscar De La Hoya that I'm ready for Canelo at 154 lbs."
Team Andrade boxing trainer, Paul Andrade, said, "Right now, the top names to beat in the 154 lb division are Saul "Canelo" Alvarez, Erislandy Lara, Miguel Cotto, and the Charlo brothers. Canelo is likely giving up his WBO belt, knowing very well that Demetrius is the mandatory. I call Canelo a flip-flop boxer. He flips and flops to avoid all the top contenders in our division, but then again, so do Lara and the Charlo brothers. Jermall Charlo (Houston, Texas/pro record: 24-0-0, 18 KOs) and Charles Hatley (Dallas, Texas/pro record: 26-1-1, 18 KOs) have not signed to fight each other yet, probably because the winner would have to fight Demetrius. We've called Lara out in the past. I can't think of a better story line for a fight than to have two native sons of Providence, Rhode Island, fight each other here in Providence – Demetrius Andrade and Miguel Cotto. Which fighter wants to step in the ring with Demetrius Andrade? These boxers say they will fight anybody. Therefore, I am on my way to City Hall and the court building, so that I can change my son's name to 'Anybody.'
If there's one boxer who will likely step up and fight Demetrius, it's Kell Brook. By moving up two weight classes to fight GGG, he proved that he had the heart of a warrior. If Brook is going back down to 154 lbs, we would love to shake hands with him in the middle of the ring and get it on. Like Brook, I have a lot of respect for Jack Culcay. Although we haven't yet received the fight contract from Culcay's team, he seems to be willing to do what other fighters are afraid to do, and that's accept a challenge from Demetrius Andrade."