September 2, 2016
1 Likes
0 Comments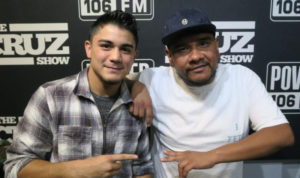 [wpdevart_youtube width="475″ height="350″ autoplay="1″ theme="light" loop_video="0″ enable_fullscreen="1″ show_related="1″ show_popup="1″ thumb_popup_width="474″ thumb_popup_height="282″ show_title="1″ show_youtube_icon="1″ show_annotations="1″ show_progress_bar_color="red" autohide_parameters="1″ set_initial_volume="false" initial_volume="100″ disable_keyboard="0″]nnT6Itmz1E0[/wpdevart_youtube]LOS ANGELES (September 2, 2016) – 2012 U.S. Olympian and current NABF Featherweight Champion Joseph "Jojo" Diaz (21-0, 12 KOs), stopped by The Cruz Show on LA's Power 106, Where Hip Hop Lives, to talk about his upcoming fight on the Canelo vs. Smith pay-per-view undercard on September 17. Diaz, Jr. will be taking on Andrew "El Chango" Cancio (17-3-2, 13 KOs) in a 10-round featherweight fight at the home of theDallas Cowboys, AT&T Stadium in Arlington, Texas on Mexican Independence Weekend. Below is a link to watch the segment and a link to embed the interview. All mandatory photo and video credit must go to Power 106 – The Cruz Show.
Tickets are priced at $750, $500, $300, $200, $100, $85, $50 and $40, not including applicable service charges with a total ticket limit of 8 per person. To charge by phone with a major credit card, call Ticketmaster at
(800) 745-3000
.  Tickets are also available for purchase online at
www.ticketmaster.com
. Additionally, walk up purchases are available at the AT&T Stadium Box Office (
Monday
–
Friday
9:00 a.m. CT to 5:00 p.m. CT
).
Canelo vs. Smith, a 12-round fight for the WBO Junior Middleweight World Championship, is promoted by Golden Boy Promotions in association with Frank Warren and Canelo Promotions. Gabriel Rosado vs. Willie Monroe, Jr. is presented by Golden Boy Promotions in association with Banner Promotions and Diego De La Hoya vs. Luis Orlando Del Valle is presented by Golden Boy Promotions in association with Roc Nation Sports.  The event is sponsored by "Tecate, BORN BOLD," O'Reilly Auto Parts, "Hennessy. Never Stop. Never Settle," Adriana's Insurance, "AT&T, mobilizing your world,"and Casa Mexico Tequila and will take place on Saturday, September 17 at AT&T Stadium. Doors open at 2:00 p.m. CT, first fight and the RingTvLive.com live stream begins at 3:20 p.m. ET/2:20 p.m. CT/12:20 p.m. PT; the preliminary live stream begins at 6:30 p.m. ET/5:30 p.m. CT/3:30 p.m. PT; with the main show produced and distributed live by HBO Pay-Per-View beginning at 9:00 p.m. ET/8:00 p.m. CT/6:00 p.m. PT.
For more information, visit
www.goldenboypromotions.com
,
www.frankwarren.com
,
www.attstadium.com
or
www.hbo.com/boxing
, follow us on Twitter at @GoldenBoyBoxing, @Canelo, @LiamBeefySmith, @KingGabRosado, @WillieMonroeJr, @JosephDiazJr, @AndrewCancio, @DiegoDeLaHoya, @OscarDeLaHoya, @FrankWarren_tv, @ATTStadium and @HBOboxing, become a fan on Facebook at
www.Facebook.com/GoldenBoyBoxing
,
www.Facebook.com/frankwarrenpromotions
,
www.Facebook.com/ATTStadium
or
www.Facebook.com/HBOboxing
, join us on Instagram @GoldenBoyBoxing, @Canelo, @LiamBeefySmith, @KingGabRosado, @Willie_elmongoose_monroejr, @JosephDiazJr, @Aa_Cancio, @DiegoDeLaHoya94  @ATTStadium, @OscarDeLaHoya and @HBOboxing, and follow the conversation using #CaneloSmith.
The HBO Sports special ROAD TO CANELO/SMITH debuts SATURDAY, SEPT. 10 at 12:45 a.m. (ET/PT) immediately following HBO World Championship Boxing.