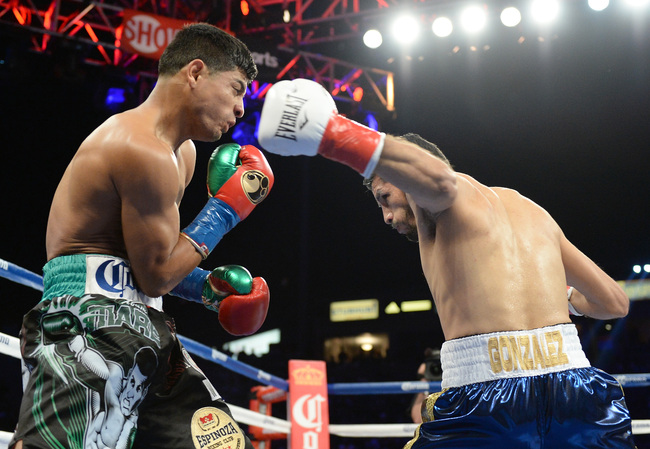 Q
What did you learn from your last fight, the loss with Jhonny Gonzalez? What have you been doing the whole year, how have you been preparing? How have you been working so that the inactivity doesn't affect you in this upcoming fight?
A. Mares
You learn a lot from a loss. In fact, you learn more from a loss sometimes than from wins. The inactivity, the year out, it made me see a lot of things, rethink a lot of things and, obviously, rejuvenated me. I've been coming off a long string of title defenses, fight after fight, tough fights. In a period of eight, nine months I did a lot of tough fights. We've got a new team working with Virgil Hunter out here in the Bay area and if it affects me, the layoff, it'll be for the first few rounds, but once I get in my rhythm, nothing is going to stop me.
Q        
How come the Gonzalez fight was never put back together after that postponement?
A. Mares       
Well, I did suffer a brief injury in Mexico City. I was training for that fight for February, a rematch against Jhonny Gonzalez and then after that we just didn't agree with dates pretty much. That was the whole case of the fight not happening.
He wanted to take some time off. I was not going to give any advantages, so I decided not to take the fight any time soon and he didn't want to wait. So, with that said, I needed more time for myself to recover. I'm just focused on this fight, but later on in the future it's possible again.
Q        
So, I understand you have to be focused on your preparation for the fight coming up in a couple of weeks, but is, in the back of your mind still the idea that you would like to gain revenge against Jhonny?
A. Mares       
Yes, no doubt. This is a guy who took my undefeated record. He did take a lot from me that night. I'm not saying physically, because it happened so fast, less than a round. So, thank God, physically, I wasn't damaged that much, but naturally he did as far as taking my undefeated record, so believe me, I do want my rematch, I want my revenge. But that will come within time.