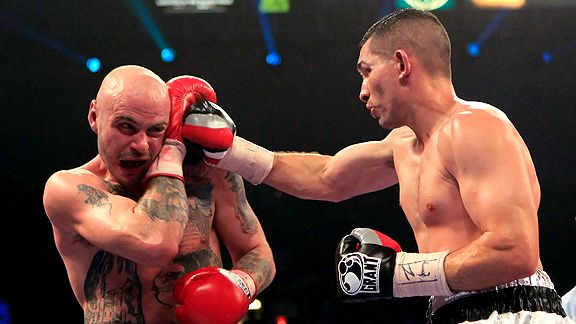 By Shawn Craddick

Alfonso Lopez 22-3, 17KO's from Cut and Shoot, TX (Yes that is a real place) will be returning to action in 2014. Alfonso first got noticed when he was called in to face Kelly "The Ghost" Pavlik in May 2011. Lopez lost a MD to Kelly in a fight that started good but Lopez began to fade little in the late rounds. From there Lopez bounced back against Michael Walker, then turned around and took to UD losses to Dyah Davis and unheard of Justin Williams.

Alfonso said he is looking to get back into contention. Alfonso got in contact with us and we asked him how is he doing. He responded, "I'm currently at 200 lbs. I had both elbows operated on. Looking to start at 175 lbs and see what opportunites present themselves. I can still make 168 lbs, I think."

We will keep you posted when he has secured a fight.