Terence Crawford, happy to be fighting in his hometown of Omaha, Nebraska, for the first time as a professional, delivered a star-making performance as he knocked out Yuriorkis Gamboa in the ninth round of a thrilling fight to retain his lightweight world title on Saturday night at the CenturyLink Center.
Not only did Crawford deliver the goods before 10,943 screaming fans, but he and Gamboa -- a former unified featherweight titleholder and 2004 Cuban Olympic gold medalist -- put on a clear fight of the contender, an intense battle in which Gamboa was knocked down four times but also rocked Crawford.
"I told Gamboa he picked the wrong fighter and the wrong city and I was right," Crawford said. "I never felt any danger in the fight."
Through a translator, Gamboa said, "There were just two warriors in the ring trying to get the victory, and he won."
It had been 42 years since there had been a world title fight in Omaha -- Joe Frazier defended the heavyweight world championship against Omaha's Ron Stander, winning by fifth-round knockout at the Civic Auditorium on May 25, 1972 -- and it proved worth the wait. Crawford's victory did not come as a huge surprise, but the way it unfolded did because many expected the bout between two supremely skilled boxers to be more of a boxing match than street fight.
[+] Enlarge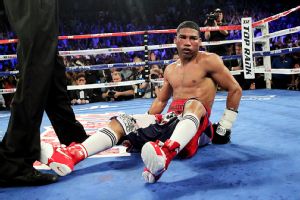 Chris Farina/Top RankFormer Cuban Olympic gold medalist Yuriorkis Gamboa suffered four knockdowns en route to the first loss of his career.
"What we thought was going to be a tactical fight turned into a tactical brawl, which turned this crowd into a frenzy -- and they were already in a frenzy," Top Rank vice president Carl Moretti said.
Crawford, 26, was fighting in his home state for only the second time as a professional and in Omaha for the first time -- a little more than three months after he went to Glasgow, Scotland, and outboxed hometown hero Ricky Burns to win a 135-pound title on a unanimous decision.
After winning the belt, Crawford wanted to make his first defense in his hometown and promoter Bob Arum of Top Rank also wanted to bring him to Omaha, where he believes Crawford can become an attraction. Based on Saturday's result and the raucous crowd Crawford drew, he is on his way.
"We've got another center for boxing. We'll be back there before the end of the year," said Arum, who was forced to watch the fight on HBO because he is laid up in his Los Angeles home recovering from knee replacement surgery last week. "I would say 90 percent of the people who came to the fight had never been to a prize fight. I think they'll all be back. That was so exciting."
Crawford had dreamed of fighting at home as a pro since a disappointing loss in the 2006 National Golden Gloves finals, which took place in Omaha. He turned pro in 2008 and had a breakout 2013 before winning the title in March.
"It means a lot," Crawford said of his long-awaited homecoming fight. "This is what they've been waiting on since I turned pro."
Early on, however, Crawford (24-0, 17 KOs) was having problems with Gamboa's blazing hand and foot speed. He seemingly lost at least three of the first four rounds, and perhaps all four, but he never panicked -- even after turning to a southpaw stance in the third round and immediately eating several straight right hands to the head and body.
"I was warming up, getting used to his style the first couple of rounds, just wanted to test him out, see where he was and adjust," Crawford said. "[After the fourth round] my coach [Brian McIntyre] told me to keep my hands up a little more and catch him coming in."
It worked because Crawford took over in the fifth round, dropping Gamboa as he nailed him with a clean right hand and chopped him to the mat with a left.
Gamboa, who is promoted by rap star Curtis "50 Cent" Jackson, was still discombobulated when Crawford unloaded another hard right hand that hurt him again in the final seconds of the round.
A counter right hand dropped Gamboa to a knee in the eighth round, a huge one for Crawford. The 32-year-old Gamboa (23-1, 16 KOs), the smaller man who was also coming off a year layoff and was fighting as a lightweight for only the second time, was taking heavy punishment. But as much as Gamboa looked done early in the ninth round, he rallied to badly rock Crawford and send him staggering backward.
"He caught me with a good shot. I got careless. I commend him. He caught me with a good shot I wasn't ready for, and I felt I came back strong," Crawford said.
After Gamboa hurt Crawford and went on the attack, Crawford hammered him with a left hand to the chin, sending him down hard. Moments later, Crawford demolished him with a right uppercut. Gamboa went down again and referee Genaro Rodriguez waved off the fight without a count at 2 minutes, 53 seconds.
"When you fight a shorter fighter you attack with uppercuts. This is what we worked on during training camp," Crawford said.