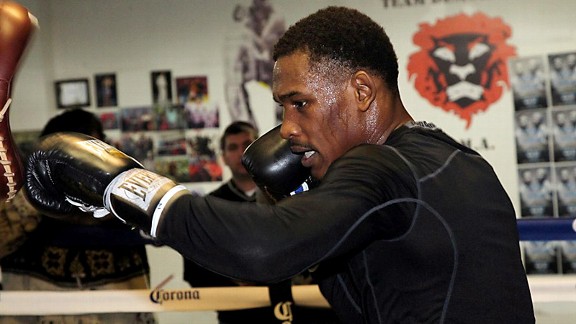 DANIEL JACOBS, Middleweight Contender
"Finally, the "Miracle Man" has come back to Barclays Center! It feels great to be back in my hometown where I was born and raised and to have an opportunity to fight for a world championship here.
"It's just mind blowing, the opportunity of a lifetime, and I look forward to taking full advantage of the opportunity.
"I want to thank my opponent for accepting this fight because he's coming from Australia to Brooklyn to fight in my back yard. It says a lot about that fighter and the man that he is, and I applaud that.
"I remember being on my death bed, and I found our in the newspaper that the Barclays Center was opening and that they were going to have fights here. And me not knowing if I would ever be able to box again, let alone perform here...to be standing here in front of you guys and say that I'm fighting for the WBA championship of the world is awesome!
"I also want to say that I represent more than just the sport of boxing. I'm a true gentleman of the sport, and it takes guys like myself, Oscar and other guys who represent the sport well to continue to take this sport to another level.
"I just want to say thank you guys for all of your support that you've given me. It will definitely be the start of something epic. I appreciate you guys and God bless you all.
"This means the world to me, to have the opportunity to fight for a world championship and to win it in my backyard with my fans and my family here. It's an opportunity of a lifetime."
"I'm training like a champion and come August 9th I will be a champion."