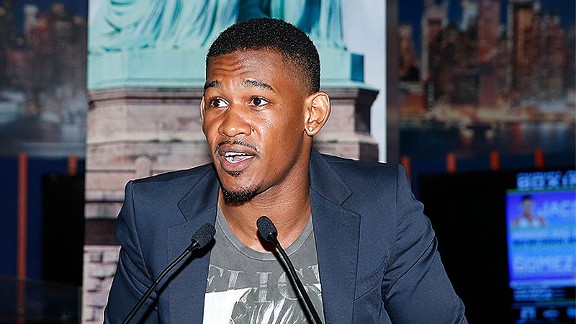 Jacobs was an outstanding amateur who defeated, among others, fellow-standouts such as Mike Jones, Shawn Porter, Shawn Estrada and Austin Trout before making his pro debut in December 2007.
The 6-foot-1 Jacobs is currently ranked fifth in the WBC and IBF, sixth in the WBO and seventh in the WBA at 160 pounds. A winner of six in a row by knockout, the 27-year-old is coming off a career-best third-round TKO over Yovanny Lorenzo on Aug. 19, 2013. It was Jacobs' fourth fight since returning to the ring after courageously winning a 19-month battle against cancer and partial paralysis.
"I've had a marvelous camp,'' said the talented boxer-puncher, whose only loss came on a fifth-round TKO to then-WBO middleweight titleholder Dmitry Pirog on July 31, 2010. "I've been getting ready for this fight for about three months. I trained in Australia for about a month in Sydney. I got a lot done and learned a lot. The weather was great, it was a good change of environment. I'm feeling great.
"I'm truly, truly excited about this fight. Being that it's in Puerto Rico, that's going to be exciting for me. My girlfriend is Puerto Rican, and this will be her first time having a chance to go there."