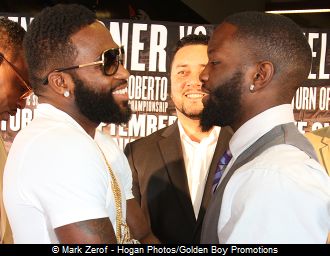 EMANUEL TAYLOR, Super Lightweight Contender:
"He can't get under my skin. I always keep my calm. I knew he was going to talk, but at the end of the day we have to throw our hands.
"I'm definitely an underdog, but I can't tell you my game plan. We just have to go in there and do what we have to do to get a win.
"I have to beat him real bad to get the win, I know that. I know we're going up against the odds fighting him in his hometown. I'm going to go in there and fight my fight. That's what we train hard for.
"I saw his fight against [Marcos] Maidana and I saw a lot of weaknesses there. But that's not the only way he can be beaten. I definitely can take advantages of his weaknesses but I have some other plans for fighting this guy.
"I'm definitely looking to make a statement. This is the biggest fight of my career. This is what I've been working for my whole life since I was a little kid. It's my time to make a statement.
"I'm coming to fight to give the fans what they want. At the end of the day may the best man win. I'm coming here to fight and do my thing."