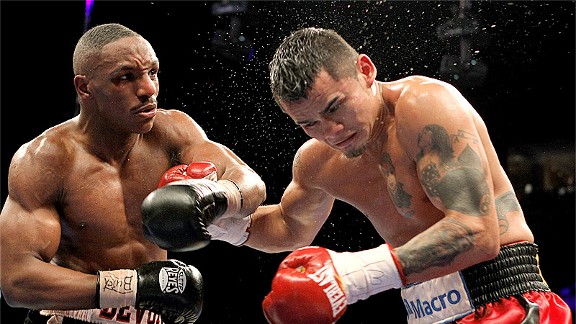 F. Mayweather         
You know, I can't really say, but one thing that I did notice, as some of you know I look at a lot of things.  I don't have anything against anyone, but I noticed that when the guy, Alex Ariza, was in Amir Khan's corner and when he faced Maidana, Amir Khan looked super strong in that fight.  Then you go back and look at it, I go look at Maidana's fights against certain guys, like when he fought Alexander, he was strong, he was still coming ahead because he's the kind of guy that comes straight ahead, and liked the looped shots.  He wasn't as strong as he was in the Adrien Broner fight.  In the Adrien Broner fight he was a lot stronger than he was in a lot of his past fights.
So you know, I don't know if Alex Ariza plays a major role into that, but when I sit back and I look, I'm looking at Pacquiao versus Bradley and I notice ever since Ariza has not been with Pacquiao anymore there's been a total change in his power.  So I look at things like that and I question things like that to myself, but I don't worry about anything and I'm not going to say nothing about Ariza because I think he's a pretty cool guy.  I don't really know him, but we got USADA, which is the best in the world, and we're going to continue to go out there and do what we supposed to do.
L. Ellerbe      
To touch on what Floyd just said, I have got firsthand information on the Maidana-Alexander fight.  He (Maidana) was asked to pull out the fight because he was very, very sick. He was asked to pull out but he refused to. He's not one, obviously, to make any excuses, but the facts are what the facts are.