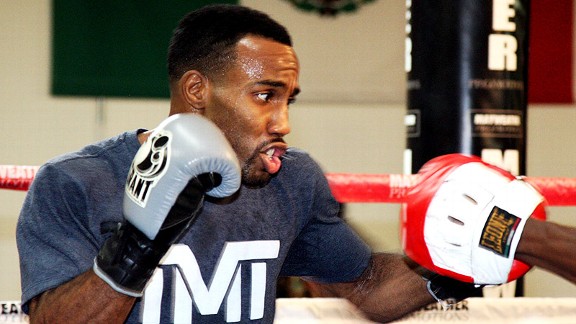 Q
How far are you away from the mistake that cost you the win against John Molina, and in what way has that motivated you to be a better fighter?
M. Bey           
I got past it probably the day after, because it wasn't like a thing where I had to go back and get better. One thing about it, I'm a humble guy, so I feel like I was kind of showboating to the crowd and I was looking out at the crowd and stuff, against a big puncher and that's a mistake. So I was mad that that happened, but other than that I won every round, and I took his best shots the whole fight, and that's a big puncher.
So I got over it the day after, but yes, I was disappointed because I don't really-I don't think anybody can beat me as far as if I didn't do that I would still be undefeated. I love putting on great performances for the fans, but that's not in my character to have went that far looking outside the ring and all of that type stuff.
Q        
Floyd was at ringside for the Molina fight. Did he have any advice or counsel for you after the fight? Was he tough on you? What were his words for you afterward?
M. Bey           
No, he wasn't tough, but he definitely gave me some great advice. After he fought Canelo we watched the fight together, and we went over some things, and he told me that was just a mistake. He said it's boxing, and anything can happen, so it's not over until it's over.
Q
Can you characterize Miguel Vazquez style? And also, do you think you're fighting the guy that everyone considers to be the best in the division, and does that motivate you even more to get a win?
M. Bey           
Oh, yes. It does. Yes, I think he is because people might not credit his style, but at the end of the day he's been the champion for years, so you've got to give him credit. People can say he fights this way and that way, but he's been the champion for years, so I think it's going to be a great fight.
You got to give us both credit because, number one, a lot of fighters they might cherry pick or wait for a title. Me, I'm getting in and I want to prove that I'm the best by fighting the guy that's the best in the division as far as being the champion for so long.
Q
Mickey, how do you prepare for a guy who will do anything to win a fight whether it be stink it out or do anything to take away your best weapon?
M. Bey           
Well, I'll tell you I've got way more tools than him. He's just got the bigger name of course because he's been the champion, but I think this is going to be a fight where he's going to be trying to get around my puzzles. I can do it all, and nobody saw my best but you're going to be your best when you fight on this level.
He fought at this level, so my trainer knows even though we're expecting an even better Vazquez. But he's going to have more of a puzzle because nobody really fully knows all the things that I can do.
Q
What do you think is the key to what makes him so difficult?
M. Bey           
I think the guys in this game today, a lot of them fight the same pretty much. They don't really know how to box. A lot of guys can't beat good boxers. They just like the rock 'em sock 'em robot type style, and whatever happens, happens. A lot of guys just swing for the fences and they just fight with their eyes closed.
Vazquez is a crafty fighter, so I don't think the guys that he was fighting had the ability and the speed and everything to keep up with him.
Q
Mickey, why did you take this fight?
M. Bey           
I'm a beast at the end of the day. If Godzilla came or something came down from Mars I'll fight it and come in 100% confident. He's a good fighter. This is what boxing is about. It's about wanting to prove that you're the best, and to me it's just that I want to fight the best and to prove that I'm the best.
Q        
Now, both of you are boxers are you willing to change your style for this fight and become the aggressor because he plays the outside so much?
M. Bey           
I'm just going to go accordingly really. I've got a great trainer, Floyd Mayweather Sr. and he taught me well, so I'm going to just pretty much act accordingly. You never know. I don't really look at previous fights because any fight can go different, so I'm just going to act accordingly. It could be a boxing match. It could be a street fight. I just come out on top whatever it is.
Q
Is there pressure to not only get the win but also look good and stellar on the Mayweather undercard because of the fact that all of the people will be watching?
M. Bey           
Really you've just got to do your job. All of you all know this cat's style, so at the end of the day beating him is good enough. Of course I want to look good, but this dude is a legitimate fighter and a legitimate champion, so I can't get too caught up into thinking how I look even though I'm sure I'll look great. But getting the win, that's the key.
Q        
You were talking about a couple of different fight dates. Was it difficult for you in training camp to manage all of that not really knowing exactly what date you were going to be fighting?
M. Bey           
Not really. I just pretty much I just go with the flow, man. I just stay calm, relax, and just do my job. I've got a great team, so I'm confident in them, and they're confident in me. I just go accordingly pretty much.