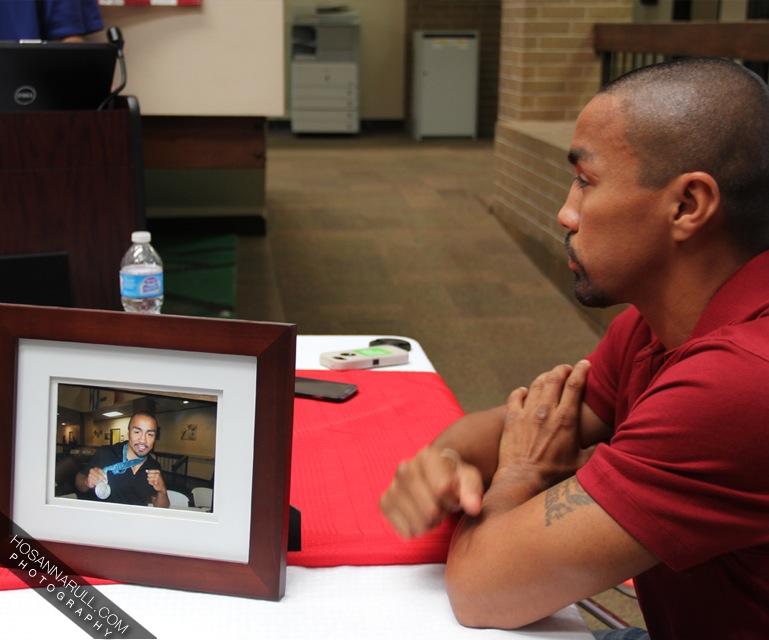 SOUTHWEST KEY PROGRAM, HOUSTON, TX, (July 30, 2014) WBC Silver Featherweight Champion
Rocky Juarez was invited as a special guestto speak to students at the Southwest Key Program in
Houston, TX. Southwest Key Programs is a national nonprofit organization providing transformative
education, innovative safe shelters and alternatives to incarceration for over 200,000 youth and their
families annually, while creating opportunities for their families to become self-sufficient. Juarez
inspired the attendees with hopeful words about striving for goals and fulfilling dreams.

"I want you to have dreams", Rocky implored, "and know that you can be more than where you came
from; more than where you are now."

Juarez gained the WBC Silver Title by defeatingReneAlvarado of NicaraguaonMemorial Day, Monday,
May 26, 2014 in Fort Bliss, El Paso, Texasin frontofthousands of military personnel and adoring fans.
He is eyeing at a shot at Jhonny Gonzalez who holds the WBC title.

"Of course I want Jhonny, he holds the title that I have been chasing my entire career", answers Rocky
when asked about the chance of fighting Gonzalez. "The fight may not happen this year and I want to
stay busy,so my team and Golden Boy Promotions are working on a fight in Texas for this September
or October. Hopefully everything gets sorted so that we can announce it to the fans."

Rocky was presented with a certificate of appreciation for his service. The Olympic Silver Medalist
had a wonderful time posing for pictures with the pupils and staff. "Giving back to the community is
a part of being a citizen, a gentleman and a public figure", beamed the Champ as the program
wrapped up. "I represent Houston, as an Olympian and now also as member of the WBC family, and
with prestige come responsibilities."

After contemplating for a moment, Juarez quips, "Words are powerful, words inspire and hopefully
my words can make a difference in at least one of these lives."

As on cue a student graciously declares to Juarez, "Thank you for coming and I will take in everything
you said about chasing your dreams."