Former middleweight world champion Sergio Martinez, who has been relaxing in Spain, has made his decision: He will fight on.
Martinez has spent the past few weeks contemplating retirement after Miguel Cotto knocked him down four times -- including three times in the first round -- and stopped him in the 10th round to take the 160-pound championship on June 7 at Madison Square Garden in New York.
[+] Enlarge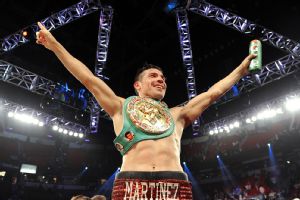 Jeff Bottari/Getty ImagesAfter spending time thinking about retirement, Sergio Martinez has decided to keep fighting. Martinez hopes to reclaim a world title.
But on Saturday, the 39-year-old Martinez (51-3-2, 28 KOs), of Argentina, announced he would continue to fight with the aim of reclaiming a world title.
Martinez met with longtime adviser Sampson Lewkowicz in recent days and told him of the decision.
"Miguel De Pablos (Martinez's business manager) and I met with Sergio at his home in Madrid and he says he is 100 percent healthy and ready to do what it takes to return to the very top of boxing," Lewkowicz said. "Against Cotto, Sergio was badly hurt in the opening round from the first left hook that landed. After that, he remembers only pieces and had very little control of his body and especially his legs.
"He fought entirely on instinct. It was the worst night of his entire career and he is coming back to prove he is a superstar fighter who just had a bad night."
Before Martinez, who was heavily favored to defeat Cotto, returns, he will undergo a battery of medical tests in New York to make sure he is healthy enough to continue.
Martinez suffered a concussion against Cotto and has battled hand and knee injuries in recent years, including having two surgeries on the right knee that he hurt in both of the previous bouts prior to facing Cotto -- wins against Martin Murray and Julio Cesar Chavez Jr.
Martinez has insisted that his knee was not an issue against Cotto.