Bryan Vera vs Julio Cesar Chavez Jr
Vera and Chavez Jr had a feel out round. Both were effective. Vera came out in the 2nd round and couldn't miss with the right hand. He had Chavez stunned twice in the round. The 3rd round was amazing. Both fighters landing thunderous shots. Very close fight. In the 4th round Chavez poured it on and had Vera stunned for a second. After 6 hard rounds the match seems even. After 7 rounds it seems like Chavez is pouring it on with body shots which is slowing Vera down. In the 8th round the ref took a point away for holding Chavez head down during a clinch. Vera is at a disadvantage going into the 8th round. Vera started to land the better shots in the 9th round. Close fight going into the last 3 rounds. In the 10th round Chavez was landing clean shots. Vera poured it on in the last 10 seconds but it wasn't enough. What a blazing fight in the 11th. They traded bombs in this round. It's such a close fight. This fight could very well come down to this last round. Chavez Jr ran the last round and Vera landed meaningful shots. By Chavez taking the last round off it could cost him a win. The final score are 114-113, 117-110 twice for Chavez Jr.
Vasyl Lomachenko vs Orlando Salido
Lomachenko and Salido have been going back and forth. Salido has landed alot alot and alot of low blows and hip shots. However Laurance Cole is ALWAYS out of place to see it. Veteran move by Salido. Lomachenko dropped Salido in the 10th round but the ref ruled it a slip. Lomachenko had Salido hurt in the last round and almost had him out of there. In the end the scores were 115-113 Lomachenko, 116-112 Salido, 115-113 by Split Decision Orlando Salido.
Gerardo Robles vs Juan Diaz
Juan Diaz had a slow start but in the 2nd Round he picked up the pace over Gerardo Robles. As the fights looms on Juan is backing him up and pumping that jab and bodyshots. Robles is on the run from the body attacks. Robles was on the run in the 6th round and Juan could not catch him. In the 7th it looked like Juan got hit with a shot behind the head that threw his equilibrium off and he fell down. The ref ruled it a slip. Juan finished the last round strong and rocked Robles. Juan wins UD by the scores of 99-91 twice and 100-90. With the win he moves to 39-4, with 19 KO's.
Samuel Sanchez vs Oscar Valdez
Oscar Valdez stopped Samuel Sanchez in the 3rd round. Oscar dominated from round 1. Samuel tried but the skill levels just wasn't the same. Easy win for Oscar. With the win Oscar Valdez improves to 9-0 with 8 KO's.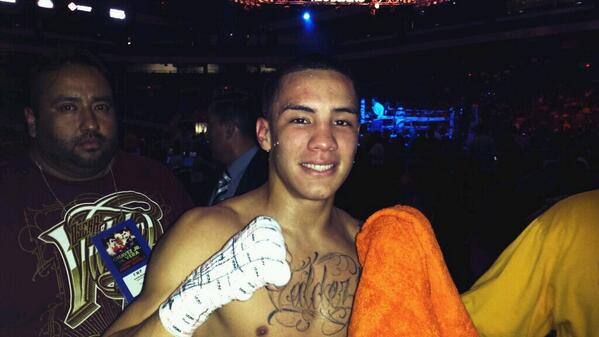 Angel Hernandez vs Ivan Najera
Angel Hernandez almost didn't make it out of the first round. Ivan "Bam Bam" Najera caught him with a left hook and down Angel went. He made it out of the first round. In the second round Angel came back and dropped Ivan with an overhand right. He survived the round. The 3rd round was all out. Both guys trading bombs. In the last 10 seconds Ivan hurt him with an uppercut and Angel held on so tight they fell to the canvas when Ivan was trying to stop him from holding. In the 5th round Ivan caught Angel with a good right hand that rocked him. Then Angel came back and rocked Ivan with an uppercut. The fight went the full 8 Rounds. Scores were 77-73 Twice, 78-72 for your winner Ivan "Bam Bam" Najera who improves to 13-0, 8 KO's.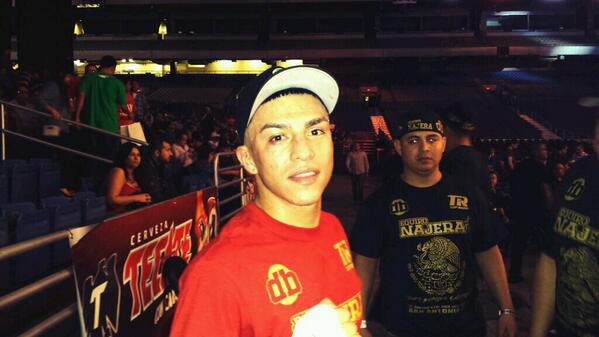 Johnnie Edwards vs Jose Zepeda
Jose Zepeda came out looking to knock Johnnie Edwards out in the first round. He had him reeling around but couldn't get him out the first round. Into the second Zepeda teed off on Edwards and you could tell he didn't want no more punishment. Jose landed at will and the ref saw enough. Jose Zepeda wins by 2nd round KO. He record improves to 19-0, 17 KO's.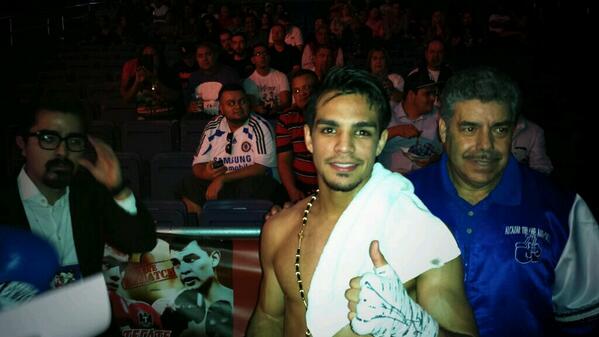 Gilberto Venegas vs Alex Saucedo
Alex Saucedo won an easy fight over Gilberto Venegas. Saucedo landed whenever he wanted. He got some good rounds in. Alex popped him all night with the jab. The scores were 60-54 twice and 59-54. Alex improves to 13-0, 9 KO's.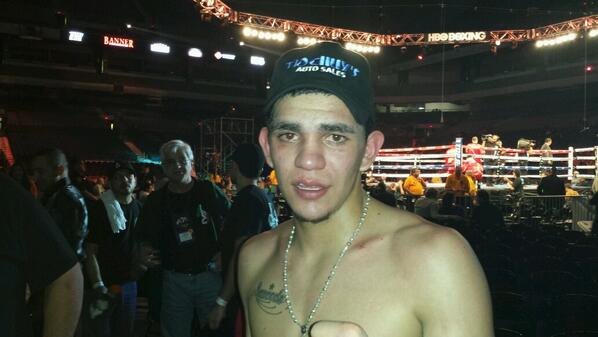 Aduato Gonzalez vs Jerren Cochran
In a good toe to toe battle between Aduato Gonzalez vs Jerren Cochran it was Jerren that caught Gonzalez in the 3rd with a left hook right hand that put him down. From the 4th round on Cochran just dominated until the 6th. The score read 59-54 Twice, and 60-53. Your winner Jerren Cochran improves to 11-0, 4 KO's.