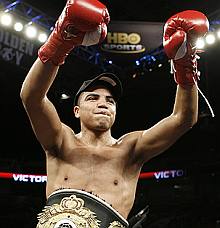 A very reliable source close to Team Ortiz was at our dental offices today for his dental work. He told us that Victor Ortiz, the kid they call "Vicious" in Kansas and Ventura County, California broke off with his trainer, Danny Garcia. Garcia is the brother of Robert Garcia, the trainer of unified super bantamweight champion, Nonito Donaire Jr.


Apparently Ortiz was not too happy about the incident at his corner when he fought and lost via a 9th round TKO to Josesito Lopez of Riverside, CA.

Ortiz was not happy the way Garcia managed the fight and according to our source that directly resulted in the double jaw fracture that Ortiz suffered during that fateful fight at the Staples Center in LA.

Ortiz, we were told, advised Garcia at the end of round four that he felt his jaw was broken.

Garcia however wanted none of that and advised Ortiz to continue to attack Lopez with the hope that he may land a haymaker and KO Lopez. Besides, Garcia felt that Ortiz was leading in the fight so he wanted Ortiz to continue.
Full story and Credit