August 24, 2016
1 Likes
1 Comments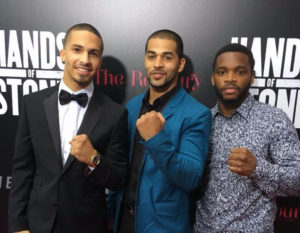 LOS ANGELES (Aug. 23, 2016) – Top contenders, 2008 U.S. Olympian
Sadam "World Kid" Ali
(22-1, 13 KOs), IBF North American Welterweight Champion 
Eddie "E-Boy" Gomez
(19-1, 11 KOs) and undefeated super lightweight prospect
Zachary "Zungry" Ochoa
(15-0, 7 KOs),
who are set to fight on the undercard of
Canelo vs. Smith
on
September 17,
 at
AT&T Stadium
in Arlington, Texas, attended a the New York Premiere of The Weinstein Company's HANDS OF STONE on Monday, August 22, 2016. Photos are now available for download, by clicking
HERE
, please use photo credit, Golden Boy Promotions.  Additional photos are available via Getty Images by clicking
HERE,
please use appropriate photo credit and photo captions.
HANDS OF STONE, the true story of boxing legend Roberto Duran. Starring EDGAR RAMIREZ, ROBERT DE NIRO and USHER RAYMOND. In theaters Aug 26. Rated R.