August 22, 2016
1 Likes
4 Comments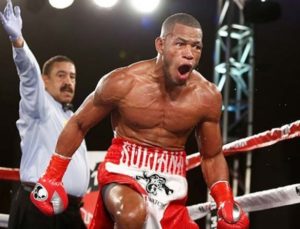 Palm Beach, Fla. – Top light heavyweight contender Sullivan Barrera has been diligently working on his craft in the hot Florida summer under the guidance of trainer Derik Santos.
The former Cuban amateur standout has inexplicably been out of the ring since coming up short against Andre Ward on March 26th in the top pound-for-pound fighter's backyard.  The loss was Barrera's first and after producing knockout victories in his prior six fights, he is surprised that he hasn't been back in action.
"I don't understand it.  I've been putting on great fights.  People have seen my knockouts on ESPN and on HBO Latino.  I thought I would have fought again in the summer or at least had a fight lined up by now," said Barrera.
With a number #4 ranking by the WBA, #8 by the IBF and #12 by the WBC, Barrera is a worthy rival for any upper level opponent.
"Over the past few months there have been talks to face Bernard Hopkins, Jean Pascal and Slava Shabranskyy but when it comes down to signing a contract, nothing ever happens.  I am willing to fight any of these guys.  I went to Ward's backyard. I am not afraid of anything or anyone. Ward and Kovalev isn't official. Maybe he can give me my rematch. One of these guys needs to step up so we can give the fans a war!" Barrera stated.
Barrera has been very active, fighting 9 times since December, 2013 and he doesn't see why he doesn't have a fight scheduled. His frustration stems from his inactivity. He is used to fighting often.
"I don't have any problems with my manager or my promoter which is usually why a lot of guys aren't fighting.  Everyone knows I am willing to go to Canada to fight Pascal and I am ready to fight Hopkins anywhere! I heard he is looking to have a final fight and I have no problem sending a legend out with a loss!  There were talks of both of these fights.  One of these guys needs to sign a contract! Seanie Monaghan hasn't fought in a while. Artur Beterbiev, Eleider Alvarrez – I would take their '0's' away too.  Just give me a fight!"