September 7, 2016
1 Likes
0 Comments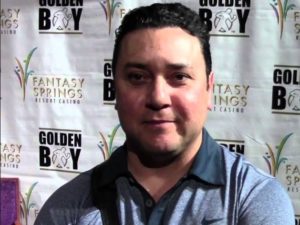 VETERAN BOXING EXECUTIVE ERIC GOMEZ PROMOTED TO PRESIDENT OF GOLDEN BOY PROMOTIONS
LOS ANGELES (September 7, 2016): Eric Gomez, longtime executive at leading boxing promotional company Golden Boy Promotions, has been promoted to President of the organization, Golden Boy Promotions Chairman and CEO, Oscar De La Hoya announced today.
Gomez has spent his entire professional career in boxing, first working with De La Hoya as a fighter before going on to become a renowned matchmaker at Golden Boy Promotions and later Senior Vice President overseeing all elements of the company.
"Eric has been a trusted adviser, confidante and friend throughout my career both as a fighter and a promoter," De La Hoya said.  "From close relationships with our fighters, to sharp insight into the business of the sport, to an ability to manage a growing team of professionals, there is no one in the sport who has a better or broader view of boxing."
Effective immediately, Gomez will begin overseeing day-to-day functions of all boxing-related aspects of Golden Boy Promotions, working with a stable of dozens of superstar fighters including the sport's biggest headliner, Canelo Alvarez.
De La Hoya's role will not change, as he will remain CEO and Chairman of the global Golden Boy company, and continue running all Golden Boy entities including Golden Boy Media and Entertainment; Golden Boy Productions; the Oscar De La Hoya Foundation; Golden Boy's interest in the Houston Dynamo; and all other real estate and business interests.
"I have spent my entire life around boxing — to have the opportunity to become president of the world's greatest promotional company is truly an honor," Gomez said. "From our super-talented fighters to our incredible staff, Golden Boy has always felt like a family, and I look forward to working with this amazing team for years to come."
###
Los Angeles-based Golden Boy Promotions was established in 2002 by 10-time world champion in six divisions Oscar De La Hoya, the first Hispanic to own a national boxing promotional company. Golden Boy Promotions is one of boxing's most active and respected promoters, presenting shows in packed venues around the world and has worked with networks such as HBO, HBO Latino, Estrella TV, ESPN, TeleFutura, FOX Sports 1, FOX Deportes, Televisa and TV Azteca. The company has also promoted some of the top boxing events in the history of the sport including De La Hoya vs. Mayweather, Mayweather vs. Canelo and other notable pay-per-view fights featuring fan-favorites Bernard "The Alien" Hopkins, Juan Manuel "Dinamita" Marquez, Miguel Cotto, Marco "Baby Faced Assassin" Antonio Barrera, Erik "El Terrible" Morales and Sugar Shane Mosley.